AmCham in the News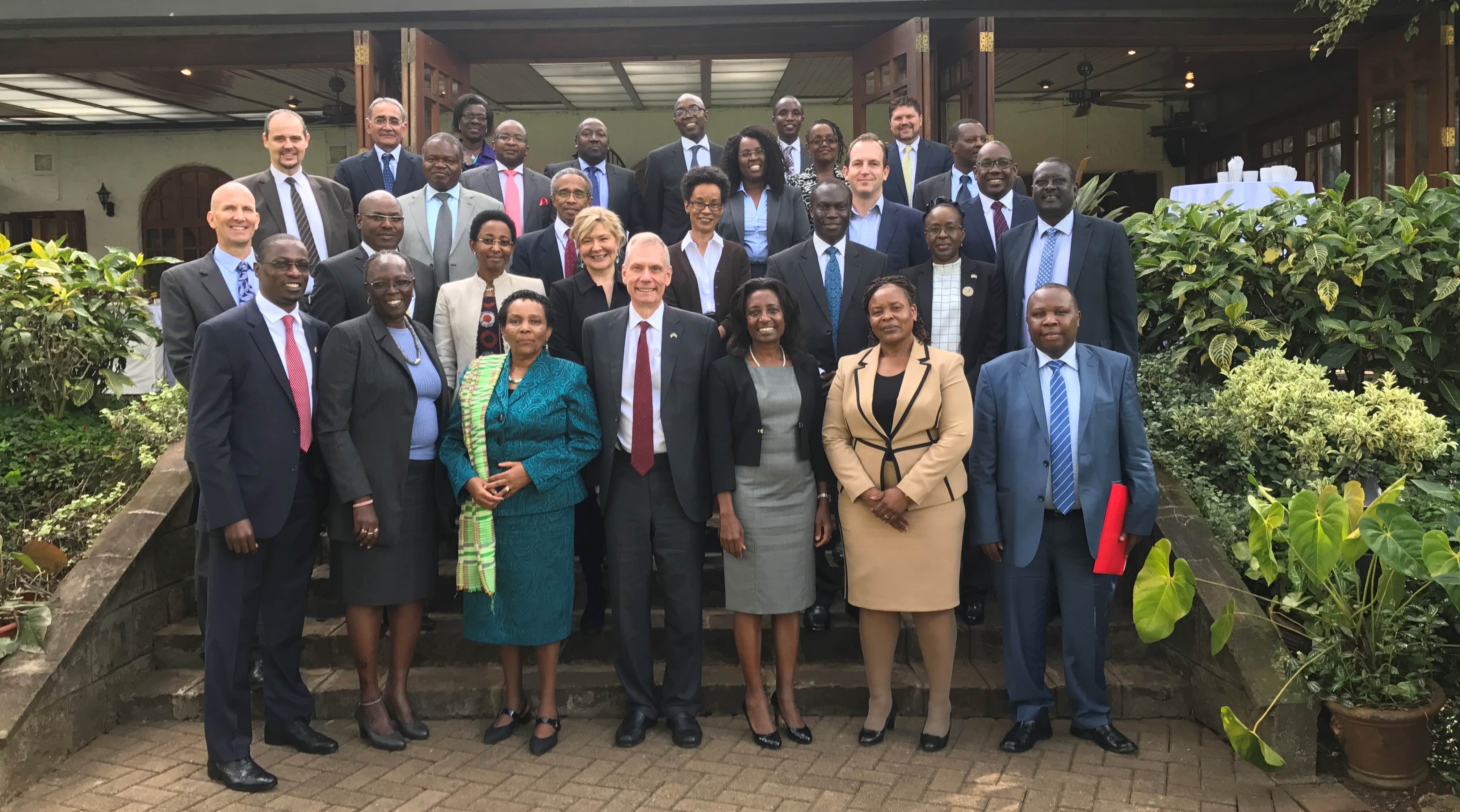 (Caption: H.E. Ambassador Robert F. Godec (front center) with representatives from the American Chamber of Commerce and Senior Government officials charged with implementing the Big 4 Agenda)
AmCham and the Government have committed to finding ways to collaborate and work together towards expansion of the local manufacturing industry, improving access to affordable healthcare, development of affordable housing and improved food security, all key areas under the Agenda. This move comes ahead of the AmCham Big 4 Economic Summit slated for June 2018, which will bring together government and U.S. private sector players and facilitate the signing of agreements, formalizing the partnership.
The collaboration agreement was reached at a meeting hosted by the U.S. Ambassador to Kenya, H.E. Ambassador Robert F. Godec at his residence, on Tuesday, 10th April, 2018. Amb. Macharia Kamau, the Principal Secretary Foreign Affairs, Ministry of Foreign Affairs and International Trade led the government delegation. Other high-level participants on the government side included Ms. Betty Chemutai Maina, Principal Secretary Investment and Industry; Mr. Charles Hinga Mwaura, the Principal Secretary Housing and Development; Dr. Andrew Tuimur the Principal Secretary Livestock, and Mr. Richard Lesiyampe the Principal Secretary Crop Development. The Senior Advisor to the President, International Relations and Social Sector, Ms. Ruth Kagia among other government officials also attended. 
Senior representatives from the U.S. Embassy accompanying the Ambassador included the Deputy Chief of Mission Ms. Mirembe L. Nantongo and the Commercial Counselor Mr. James Rigassio. Ms. Lisa Walker, Deputy for Trade, USAID Kenya and East Africa was also present. The AmCham Board and representatives from member organizations made up the AmCham delegation. 
"Our objective is to develop a long-term, strategic and collaborative platform with the Government that will ensure direct engagement to find ways to improve the business environment and increase business, trade and investment opportunities for American investors" said Maxwell Okello, AmCham's CEO. He added that this collaboration would "lead to economic prosperity and job creation for Kenya, while creating a platform for the exchange of innovative ideas, skills transfer and technology enhancement between Kenya and the U.S., through private investment."
The U.S. and Kenya are long standing allies. AmCham currently represents 135 American owned and affiliated businesses operating in Kenya. The organization's mandate is to represent and spearhead the interests of American investors in Kenya and grow bilateral trade relations between the two countries, with a specific focus on advocacy for policy development, business leadership, creating value and ensuring sustainability.
The two parties will now engage in sector-based roundtable meetings to identify challenges and opportunities, make recommendations and secure commitments ahead of the planned June Summit.